INTERNATIONAL HAIR INSTITUTE
1800 Grafts – Javier's Story – Hair Transplant Chicago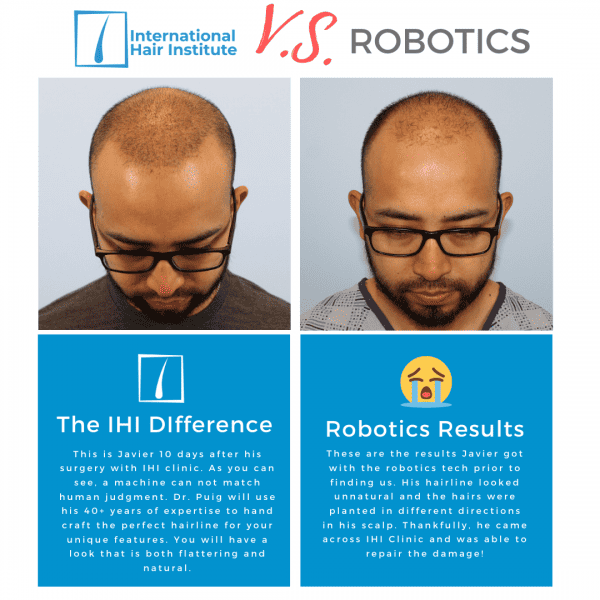 Why did you choose a robotics transplant to begin with?
I thought that my results would have turned out better with a robotics transplant but unfortunately, it didn't.
How was surgery day?
Surgery day was very relaxing. I am so thankful that I found Dr. Puig and IHI Clinic. You guys saved my life!
Javier had a robotics hair transplant disaster! He was under the misconception that a robotics surgery would give him better hair transplant results but he was wrong. The hair grafts were planted into his scalp unevenly in different directions that looked unnatural. Disappointed and embarrassed, Javier decided to do research on clinics that could correct his hairline. Thankfully, he came across International Hair Institute online and came in for a FREE consultation. Confident that Dr. Puig could fix the robotic hair transplant mistake, he booked a surgery immediately.
This is Javier 10 days after his surgery with IHI clinic. As you can see, a machine can not match human judgment. Dr. Puig will use his 40+ years of expertise to hand craft the perfect hairline for your unique features. You will have a look that is both flattering and natural.
"IHI Clinic saved my hairline!"