International Hair Institute
PRP For Hair Loss (Hair Restoration) in Chicago
Non Surgical Hair Treatment
(Platelet-rich plasma) PRP Hair Treatment is a non-surgical solution for hair loss in both men and women. Platelet Rich Plasma contains growth factors that helps your hair and naturally stimulates the development of new hair follicles while improving the health of existing hair follicles.
During the treatment, we draw your blood and spin it in a centrifuge to separate out the platelets and plasma. Then, we inject the plasma, which helps repair blood vessels, promote cell growth, and stimulate collagen production. Here at IHI, we integrate PRP with Microneedling.

International Hair Institute
How Does PRP Work?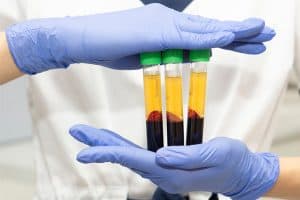 PRP contains over 1100 growth factors and wound healing cytokines. These help to stimulate blood clotting, produce more collagen, and repair tissue to heal wounds. When injected into your scalp where your hair is miniaturizing, these growth factors can reactivate dormant follicles for stronger, thicker hair.
While PRP can help to regrow hair, treatments are especially effective at preventing additional hair loss. PRP is primarily used for scalp hair, but it can also be effective at promoting beard growth.
Who Is an Ideal Candidate for PRP?
If you are dissatisfied with hair loss or hair thinning (usually due to genetics) and would prefer a minimally invasive treatment, you should learn more about PRP therapy.
You may be a good candidate for PRP hair restoration if you have male or female pattern baldness (androgenic alopecia) and your hair loss is in the early stages. You must have some hair remaining in the treatment area, even if it has miniaturized. Furthermore, your blood must contain sufficient platelets for this therapy to be successful.
If you have more advanced hair loss, our hair experts may suggest alternative solutions that better achieve your desired results. They assess all patients on a case-by-case basis during a consultation.
PRP Procedure Details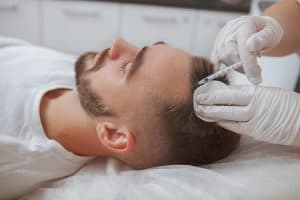 To begin, the professionals at International Hair Institute draw blood. Your blood is then run through a centrifuge to separate out protein-rich platelets from the red blood cells and white blood cells to create a plasma with a concentration of platelets at least 5 times greater than that in normal blood.
After numbing the treatment area, an expert carefully injects this PRP back into your scalp. Patients who see good results from PRP may choose to undergo the treatment a few times per year to maintain their results.
Because PRP uses your own blood, it is considered a very safe and natural treatment.
PRP Hair Restoration Recovery
PRP is a gentle procedure that should not keep you from resuming your normal schedule — including work, exercise, showering, and socializing — as soon as you leave International Hair Institute. You may notice some mild discomfort and redness near the injection sites, but this should fade within a day.
Combining PRP with Other Hair Restoration Solutions
Although some patients may choose PRP as their main treatment, it is more often performed in conjunction with another procedure to maximize the results. We encourage patients who choose PRP therapy for hair restoration to also take medication like minoxidil (Rogaine) and/ or finasteride (Propecia). Propecia is a medicine that blocks production of hormones that promote hair loss to preserve hair while simultaneously stimulating new growth.
Choose IHI for PRP Therapy
The experts at International Hair Institute are some of the country's best at performing PRP therapy safely and effectively to preserve and restore a thicker, fuller hairline. To schedule a consultation — virtually or at our office in Chicago — please call (312) 854-3899 today.