INTERNATIONAL HAIR INSTITUTE – CHICAGO HAIR RESTORATION
Premier Hair Restoration Clinic
Our Detailed Approach
Hair transplantation surgery has grown by leaps and bounds in the last decade, leaving hair plugs in the past. International Hair Institute creates natural-appearing hairlines with techniques called follicular unit extraction (FUE) and follicular unit transplantation (FUT). These restoration methods offer a no-maintenance, permanent solution for men and women struggling with hair loss and thinning hair.
Transplants can:
Improve hair density in the scalp, sideburns, beard, and other areas
Reinforce the hairline
Lower the hairline
Modern Hair Transplantation
International Hair Institute embraces new advancements in hair restoration and emphasizes maintaining healthy hair as part of sustaining an overall youthful appearance. Our internationally renowned hair restoration surgeon, Dr. Carlos Puig, can restore natural-looking hairlines with his artistic eye and superb surgical skills.
Dr. Puig is a well-respected hair restoration surgeon with over 30 years of experience. He was the recipient of the 2012 Golden Follicle Award for his contributions to hair restoration surgery, and he performs all forms of hair and beard transplants, including FUE and FUT techniques. Each approach creates aesthetically beautiful outcomes with the difference being how donor hair is harvested.
On The Day of Hair Transplant Surgery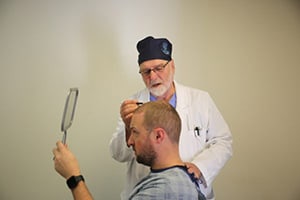 You will have a consultation with Dr. Puig the morning of your surgery to finalize the details and the design of your hair transplant before we shave the donor area and move you into the surgery room at our state-of-the-art facility. Hair restoration surgery requires local anesthesia, and you are awake during the procedure. Most patients find the experience comfortable and enjoy watching movies, listening to music, or taking a nap during surgery.
After Hair Transplant Surgery
You may return home after your hair transplant, and we can help out-of-town patients find local accommodations. You will be instructed on when and how to wash the scalp before you leave the clinic.
Normal activities can resume the day after your hair transplant but avoid any exercise or movement that works up a sweat for five days — no jogging or workouts. About 10 to 20 days after your hair transplant surgery, the hair will shed. This is natural and normal because your hair is in shock. This process is part of the hair cycle allowing the implanted follicle (like a seed in a garden) to grow new hair.
Male Hair Transplant
International Hair Institute provides patients with two different surgical restoration options to meet individual hair expectations and long-term goals.
Follicular unit extraction (FUE) removes individual hair follicles from the donor area and transfers them to the recipient regions.
Follicular unit transplantation (FUT) collects a "strip harvest" from the donor location and dissects and trims individual follicles before implantation in the recipient areas.
Each technique has specific advantages, but FUE and FUT provide equally beautiful outcomes. Dr. Puig and our talented staff will help you decide the best method for your needs.
Female Hair Transplant
Women rarely lose their hairline. Instead, they experience diffuse thinning all over the scalp. The hair follicles shrink during and after menopause, leading to finer, thinner hair. Stress can cause telogen effluvium in women, a type of hair loss that interrupts the natural growth cycle. Female pattern hair loss is another common cause of alopecia. Women may require a biopsy to determine the cause of their hair loss.
For women seeking a maintenance-free approach to hair restoration, a transplant is an excellent solution to improve density.
Beard Transplant
Beard and goatee transplants enhance hair thickness for men who struggle with patchy or thin chin hair growth. Healthy hair follicles are harvested from the scalp with the FUT or FUE technique and transferred to the jawline for a natural-looking result that lasts a lifetime, even with shaving. Beard transplants can enhance a man's aesthetics or help conceal a weak chin or acne scars.
Why Choose Dr. Puig at International Hair Institute
Dr. Carlos Puig and his caring staff have helped more than 50,000 people feel great about their hair growth and quality. With more than 30 years of surgical experience and a global reputation for excellence, you can trust that you're being treated by an experienced staff, utilizing the latest technologies and techniques for hair restoration.
Schedule a FREE Consultation with a World-Renowned Hair Restoration Surgeon
International Hair Institute offers free consultations for men and women struggling with hair loss or thinning hair. Meet with Dr. Puig and his staff to discuss the cause of your hair concerns. They will listen to your personal situation and go over potential solutions, including pricing and financing options. Dr. Puig creates a customized treatment plan for each patient to meet their hair restoration goals.